ADA Grab Bars / ADA Compliant Bathroom & Shower Grab Bars
Shop ADA grab bars now at AvaCare Medical! Find grab bars that are compliant with ADA requirements and can therefore be used in both private and commercial bathrooms. Whether it's ADA toilet grab bars, ADA shower grab bars, and other types of ADA grab bars today. Read More...
Are you nervous about falling in the bathroom? Do you sometimes wish there was something for you to steady yourself with after you get up from using the bathroom or while in the tub or shower stall? If you answered yes to either of these questions, then you may want to look into setting up ADA grab bars. ADA-compliant grab bars are a safe, reliable way to help you steady yourself if your legs suddenly feel a bit shaky or wobbly. There are two common types of ADA bathroom grab bars; ADA shower grab bars and ADA toilet grab bars. Each of these can be positioned either as horizontal or vertical ADA grab bars.
Why Choose ADA Grab Bars
ADA regulations are included in the ADA (American Disabilities Act) for a reason. Even if it is not for public or facility use, it is beneficial to make sure the grab bars in your home are all ADA compliant. Grab bars that are the right size and properly positioned according to ADA guidelines are more likely to keep the individual safe.
ADA compliant grab bars will be following ADA measurements and guidelines for a grab bar placed in a specific place.
The following is an overview of ADA grab bar guidelines that pertain to all grab bars:
Diameter of the Grab Bar: Grab bars should feature a diameter that measures between 1¼ to 1½ inch (32–38 mm) (or, alternatively, the shape of the grab bar should provide an equivalent gripping surface).
Measurement of Clearance from the Wall: There should be a 1½ inch (38 mm) clearance from the wall.
Minimum Force: ADA-style grab bars and their mounting devices should be able to hold more than 250 pounds (1112 N) of force.
Grab bars should not rotate in their fittings.
The following is an overview of grab bar installment guidelines that pertain to all grab bars:
Required Mounting Height: The required mounting height is universally 33 to 36 inches (840–910 mm) from top of gripping surface of the grab bar to the finish floor. DOJ 2010 ADA standards 609.4.
Required Mounting Height in Public Toilet Stalls: In commercial toilet stalls, grab bars on the side wall must be a minimum of 42 inches long and mounted 12 inches from the rear wall. The distance from the rear wall to the end of the grab bar will be 54 inches minimum.
Rear grab bars must be 36 inches long at minimum and mounted a maximum of 12 inches from the center of the toilet, going toward the wall. The remaining 24 inches should extend toward the transfer side.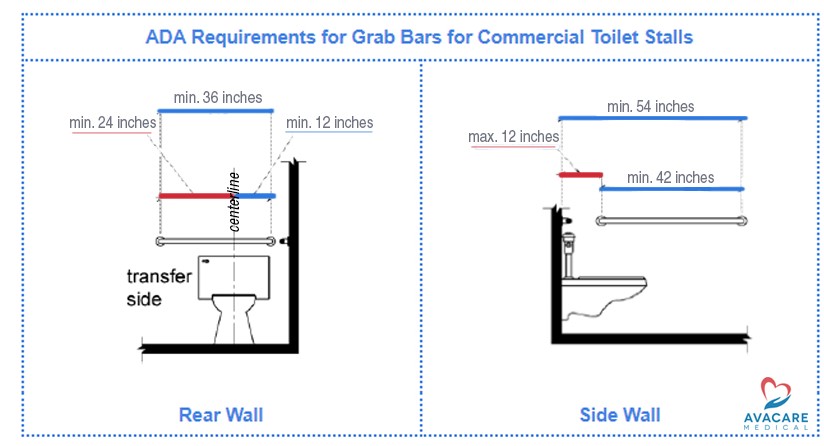 If you're looking for ADA restroom grab bars, you've come to the right place! Shop for them today at AvaCare Medical. Check out our full selection of ADA shower bars and ADA tub grab bars now!