Bathroom Grab Bars / Bathroom Safety Bars
Bathroom grab bars make the bathroom a safer place to be in. Also known as bathroom safety bars, these grab bars are similar to handrails, and are placed on the walls of the bathroom. Bathroom grab bars can be grasped for support while getting up from the toilet or tub, while walking in the bathroom, or while getting out of the tub. Read More...
Benefits of Bathroom Grab Bars
Bathroom grab bars are extremely practical and effective bathroom safety aids. Many proactive individuals take the precautionary measure of having grab bars installed before an injury occurs. There are numerous benefits to having grab bars in your bathroom! Here are the main advantages that a bathroom safety bar offers.
Reduce anxiety
Prevent injury
Prolong independence
Help you to maintain hygiene
Prevent infection & skin problems
The benefits of grab bars listed above are actually intertwined; by using grab bars, (1) anxiety, (2) risk of injury and (3) dependence is reduced, leading to more showering opportunities, which directly impacts a person's level of (4) hygiene. And of course, maintaining a regular showering schedule will significantly (5) reduce a patient's likelihood of contraction infections and skin diseases.
Bathroom Grab Bar Positioning
Sometimes, bathroom handrails and bathroom shower grab bars are referred to as vertical, horizontal or angled grab bars; these aren't specific types of grab bars; rather, these terms refer to the angle the grab bar will be positioned at. There are three standard ways a bathroom bar can be positioned on the bathroom wall (or any wall in your home, for that matter): Vertical, horizontal or angled. In the chart below, you'll learn the pros and cons of each position.
Bathroom Grab Bars: Only for the Elderly?
Bathroom grab bars are not only for elderly individuals; anyone can slip on a wet floor, and grab bars are a precautionary way to reduce the risk of injury. Studies have shown that each year, thousands of kids suffer injuries due to slips and falls. Keep everyone in your home safe by installing bathroom safety bars as soon as possible.
Bathroom Grab Bar Placement
Where to Place Bathroom Grab Bars in the Bathtub
As you'll notice in the image below, different kinds of bathroom safety rails and devices are designed to be placed in different parts of the bathroom.
A clamp should be placed on the outer side of the tub, a bathroom grab bar that is a minimum of 18" long should be positioned vertically at the edge of the tub (where you'll be exiting from, and a horizontal bar measuring at least 32" should be positioned along the longest inner wall of the tub.
Other bathroom safety products which can be helpful include a raised toilet seat, which makes it easier to get on and off the toilet, and a handheld showerhead, which reduces the amount of maneuvering required to shower.
ADA Requirements for Bathroom Safety Bars
The Americans with Disabilities Act requires commercial buildings to comply with their regulations regarding bathroom safety bars. Since it is known that these regulations are designed to promote people's safety, following ADA requirements for private locations, although not mandatory, is an intelligent idea, since by doing so, you'll know that your bathroom safety grab bars were installed in a way that promotes the user's safety.
Here's a chart which details ADA requirements for bathroom grab rails around the toilet. As you can see below, the grab bar at the rear wall must be a minimum of 36 inches. It should extend 24 inches from the centerline of the toilet to the transfer side, and 12 inches toward the other side. The bathroom handle bar at the side wall should be 42 inches long at minimum, and should be positioned no more than 12 inches away from the corner between the side & rear walls. Finally, ensure that the grab bars are positioned no less than 33 inches from the floor and no more than 36 inches.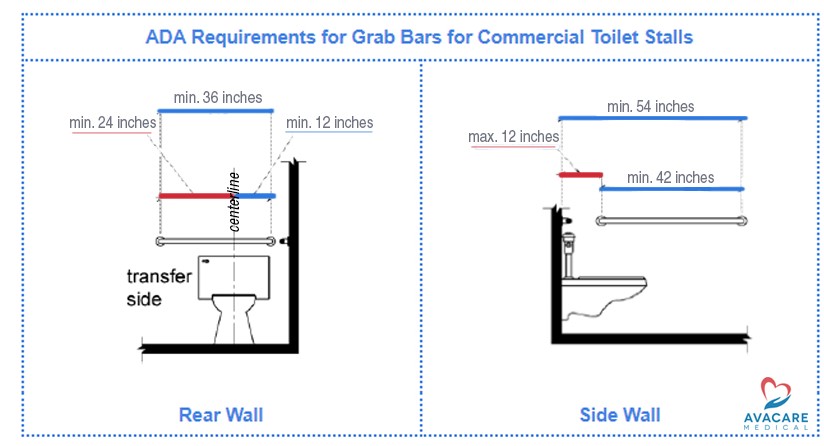 How to Install Bathroom Safety Bars: 5 Step Guide
Get Together Supplies
You'll need a stud sensor, a hammer, a drill, a level, and some drill bits.
Find the Studs
Behind your bathroom wall, there are studs - vertical framing which supports the walls. Use a stud sensor to find the studs, so that you can drill the bathroom support bar into the studs.
Mark the Studs
When you locate a stud, mark both ends of it with a pencil so that you'll have an easy time remembering where it is.
Take a Level
Use a level to mark a vertical line going parallel to either edge of the stud. This will ensure that as you move away from the spot you know is studded, you'll be following the direction of the stud. As you go higher or lower, you want to still be on the stud; just on a lower point of it.
Use a drill with a glass & tile bit to drill a ⅛ inch hole in the center of the stud and make sure it isn't hollow. Do this to be sure you've actually found a stud.
Drill the Grab Bar into the Wall
Screw the grab bar to the wall with the screws it comes with. At least 2 of the 3 screw holes in each mounting flange should be anchored into the stud. If the third screw hole can't fit into the stud, use a plastic anchor for it. Be sure the screws that are anchored into the stud are at least an inch deep in the wood, so that the bathroom grab bar will offer adequate support.
Find a full selection of safety handrails for bathrooms on AvaCare Medical. Our bathroom safety rails are high quality, and, when mounted right, can last for years. Bathroom safety handles are a worthwhile investment that will provide you with more peace of mind by reducing the risks of injury.
Are you afraid of a slip and fall? Many seniors suffer terrible anxiety when it comes to showering, since they are aware of how often falls do occur. But there is a way to relieve your worry at least somewhat: Have bathroom assist bars installed in your bathroom.
Choose from Moen bathroom grab bars, chrome ones, clamps, security poles and many other types of restroom grab bars available today on AvaCare Medical. Be proactive and shop our grab bars for bathrooms now!